Conferance Facilities!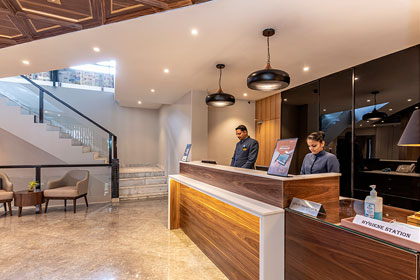 Perfect for work and play, Hotel Mini Swiss offers everything that will make meetings and conferences memorable, enjoyable and special.
Everything you need to influence your world is within reach – state of the art equipment & efficient conferencing capabilities. Is there anything else you need?
Banquet & conference halls. The signature dishes and personalized service makes for an unforgettable gathering. Facilities like extensive audio-visual support and catering services makes the ideal venue for conferences & meetings, wedding, receptions & social events such as kitty parties, special events like product launches, fashion shows, contests & games.
Our Services
The Hotel has a full room service menu available daily from 6:30 am to 10:00 pm, and an after-hours menu of hot or cold items available for late night snacks or early morning breakfasts. Our efficient and friendly service staff will deliver your order promptly.
Bar, Mini Theatre, Fax, Game Parlour, Restaurant, Car Parking, Car Rental, Spa/Sauna, L.C.D, Mini bar, Phone, Wakeup calls, welcome amenities. Huge inventory of rooms catalogued into different categories to suit your budget and taste.
Read more